Exhibition Chocolate Delivery System – Bespoke demonstration system
Posted by:

Tim Brown
Post Date:
12 February 2021
---
Tim Brown
Customer:
Key benefits:
Demonstrate the mechanical and software capabilities of Motion Design.
Problem:
To create a miniature smart factory demonstration which showcases smart technology applied to basic equipment.
The vision was to make a small production line that handled small chocolate bars. It needed to incorporate a number of technologies all communicating seamlessly together. Exhibition attendees could place their individual order which would be scheduled using a software tool. The equipment would be controlled using a modern control system and making use of machine vision, electronic traceability, digital twin technology, and IoT communications with different servers. Data would also need to be recorded for product traceability and KPIs. Information would be displayed on a large screen.
Solution:
The solution was implemented in three parts: Ordering and scheduling, automated order fulfillment and live KPI's. These three components are all networked together on a number of devices.
Ordering and scheduling:
Our online ordering and "Sequencer" job scheduling system helps end-users (internal or external) place their orders online at their convenience. This on-demand service not only gives users more flexibility, but it also allows the manufacturer to very quickly manage their production schedule, predict lead-times for customers and gives them the visibility and control to balance demand and resourcing.
In this mock smart factory layout, the user is able to place their chocolate order by entering basic information on a tablet. The tablet can also scan the QR code on the show entry pass/lanyard to automatically fill this out. The tablet is connected via wifi to our production server. Order information is uploaded to this server quick confirmation is given along with an estimated order completion time. The production server also communicates with our Insights logging software to provide data for production KPIs.
For this demonstration, the scheduler processes orders on a first in first serve basis by default, however the production schedule can be rearranged using the online visual tool.
Automated order fulfillment: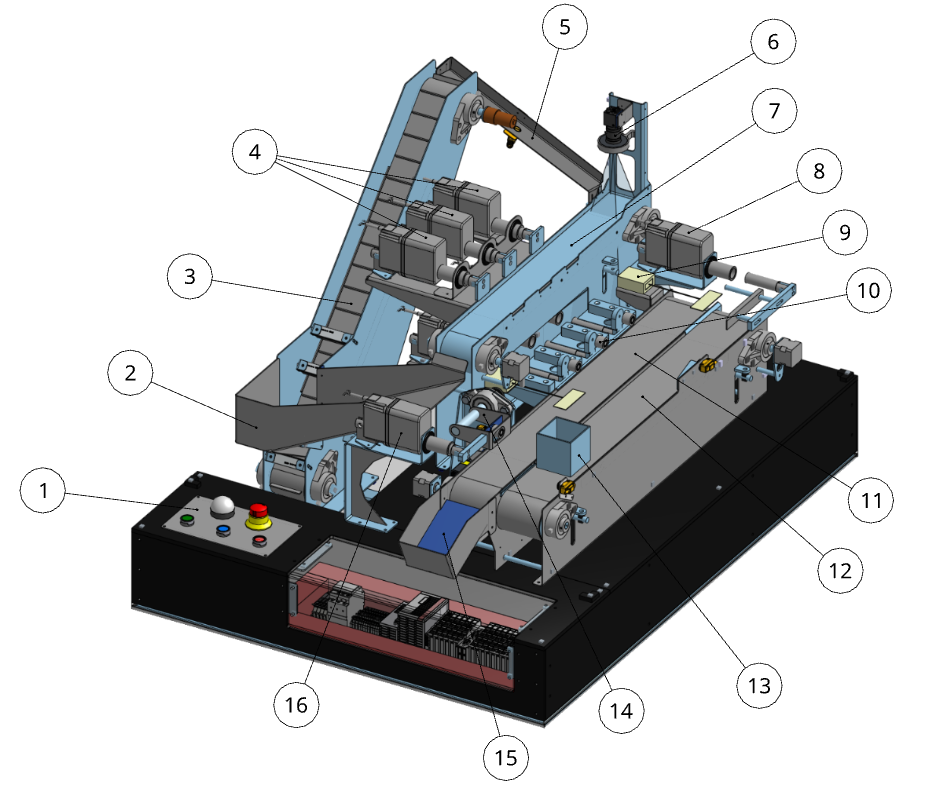 At the centre of the exhibition is a bespoke automation system which is used to fulfill orders. This machine receives information from the job scheduling tool and allocates these orders to barcoded boxes. The system will process orders as the raw material (chocolate) is produced.
In order for this smart factory system to work seamlessly a number of input and output devices are used. Input devices provide information to the computer to assist in decision making. Most of the hardware is very traditional, which represents the current state of manufacturing in Australasia. However, a number of smarter technologies have been integrated in the system to make for more flexible and efficient production. This includes a vision system, automatic label printer and barcode readers. The location of customer order boxes is modelled as a digital twin within the PLC code, with information from sensors, barcode readers and servers being added to this model. The barcode reader identifies each unique box based on its QR code. Data is recorded to the Insights database for order traceability and reporting. A printed receipt is created upon order completion which contains unique order information.
Output devices receive signals from the computer to operate a mechanical function. Output devices used in this system include stepper motors, dc motors, linear actuators, indicator lights and electromagnets. These outputs will operate in specific sequences to provide a steady flow of product throughout the system.
Time-frame: 6 months of prototyping and 5 months of detailed design and build (all part time around customer projects)
Team members contributed:
Paul, Thomas, Thornton, Yannick, Gary, Tim, Jalpa, Alex, Ryan, Craig, Clark, Riaan, Dirk